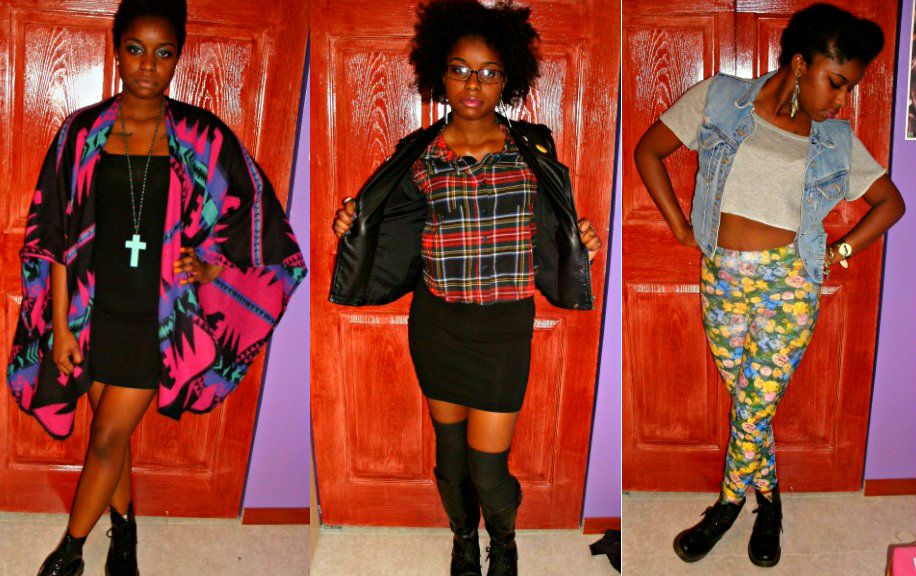 Per how hectic my weeks have been lately--school, work, and trying to hang out with my friends in between--I try to be as fashionable as possible without losing my mind in the process. So my looks usually tend to go from random adjectives. Like, for example: Electric Hippie Mexican. Sexy Lumberjack. Nineties Floral Enthusiast. You get the idea. Here are some of the looks I've done this past week.
Outfit 1
Poncho: Urban Outfitters
Necklace: Forever 21
Boots: Dr. Martens
A little backstory on the poncho (and a reason why you should always wait until shit goes on sale!). I was derping around at Urban Outfitters, thinking I'm balling because I got my student refund check, and everyone knows student refund = go buy a bunch of random shit because the government reimbursed you. Most of my money goes toward clothes. I spent at least $50 on this damn psychedelic, fashion-hippie looking, wearable blanket, only to discover a few months later that the Urban Outfitters outlet had the same damn ponchos for TEN. DOLLARS. I'm done.
Outfit 2
Jacket: Forever 21
Shirt: Urban Outfitters
Skirt: H&M
Socks: PayHalf
Boots: Bongo for KMart
So when you wear a plaid shirt, you automatically feel like a lumberjack, right? Add a leather jacket with a bunch of buttons--which you can't see...sorry!--and this makes a perfect concert outfit. I was expecting some guy who looks like Justin Vernon to walk next to me so people could think we were a couple. Wearing this outfit, I got soooo many looks. I don't know if it was the skirt or the hair. But whatever it was, some dude at least a block ahead of me kept looking back, and then tapped his friend to make him turn around. Also, word to the wise, when you wear a short skirt and you have a huge ass, you will be continuously pull it down over and over again. This process will make you feel like a whore. End of the story? If you have a big ass and you wear a short skirt, you are a whore. And creepy guys in trucks will honk at you.
Outfit 3
Vest: Thrift (But technically it's my mom's.)
Shirt: Urban Outfitters
Leggings: American Apparel
Boots: Dr. Martens
And here we have my ode to the nineties-ish look. Soon as you pair florals and Docs, you're gunning for a nineties-inspired look. If I could, I'd add florals, flannels, and Docs to every look I possibly can. There's just something about the 90s that was so...right. The fashion, the music, the television. Ugh. Do not get me started. Where the fuck is this generation headed...okay, I'm digressing.