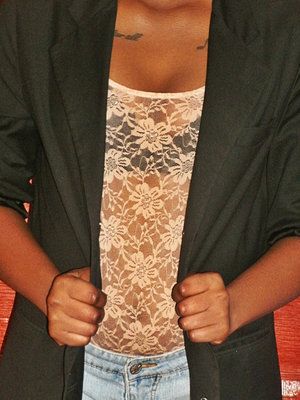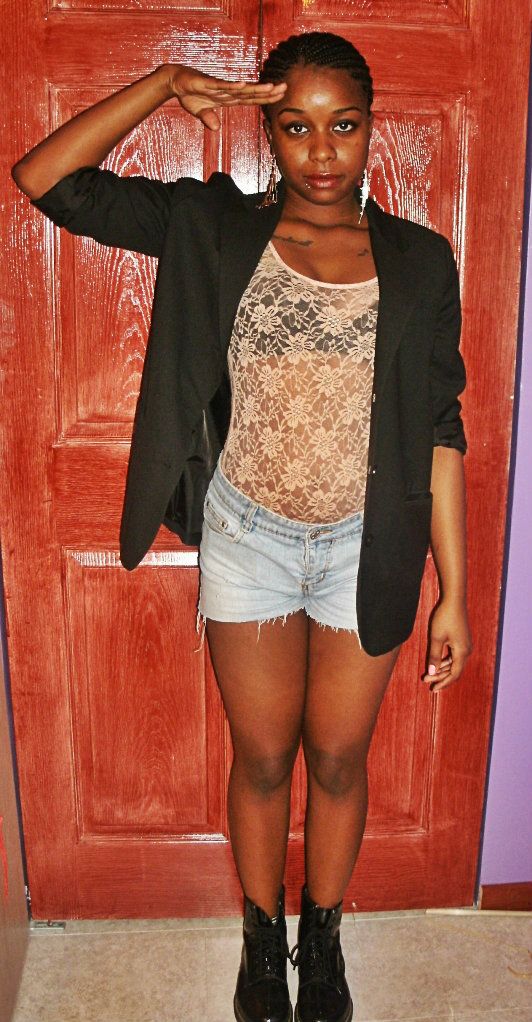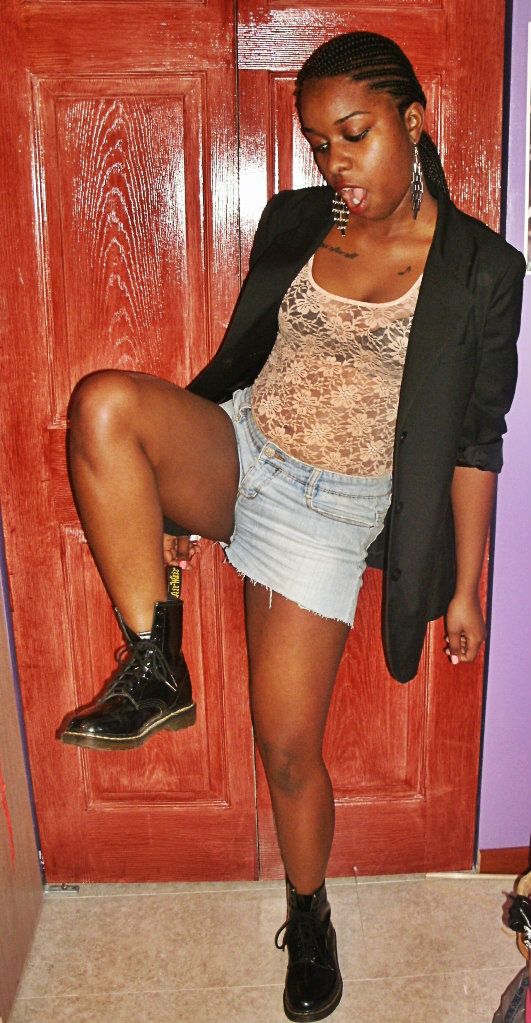 Blazer: Forever 21
Bodysuit: Forever 21 (snaps at the bottom so I can pee without stripping!)
Shorts: Sodi by Thalia from forever ago
Boots: Doc Martens
Earrings: H&M
Snapping open the bottom of your onesie definitely reminds you of being a kid again.
It was ridiculously hot out the other day. We're talking sweltering heat. The heat that people only experience when they speak of Arizona or some shit. That's what we deal with here in Chicago. It's hot one day and cold the next. And if you're lucky, you'll get a week of consistent weather. We're getting ours this week. Hot. As. Fuck.
In other OMGWTFGTFOAYFKM news...
Jeremy Scott has lost his fucking mind. First sneakers with teddy-bears on them, and now this?
From BlackMediaScoop


You're looking at the Jeremy Scott x Adidas basketball shoes. Because anyone playing basketball would totally wear these. *rolls eyes* Due to the uproar from many people who quite obviously put two and two together and decided the shoes were an obvious slavery reference, the shoes will not be released.

The JS Roundhouse Mids were unveiled on June 14th, the offensive sneakers were automatically met with opposition. And you know you fucked up when Jesse Jackson is complaining."The attempt to commercialize and make popular more than 200 years of human degradation, where blacks were considered three-fifths human by our Constitution is offensive, appalling and insensitive," Jackson said on Monday, according to CNN.

Okay, I understand that Jeremy Scott is a weirdo. The man made hoodies with animal heads on them, dresses littered in miniature crosses, and sneakers that look like wearable teddy bears. I understand that he's a quirky designer and he basically doesn't give a fuck. And I will not at all try to act like I never once coveted his rainbow sneakers with the wings that I knew I could not own in a million years.

But come on. Did he really think people would accept this? There's a fine line between being quirky and tongue-in-cheek and being straight up rude and insensitive. Black people are already stereotyped as basketball players who love sneakers. Is this a slap in the face to black customers? Were we supposed to think it to be clever? And what about white people who buy these shoes? What the fuck are we supposed to think about them?

If a designer came out with a bunch of jackets with yellow star emblems, alluding to the Holocaust, that designer would have his/her ass handed to him/her. Know why? Because it's insensitive. It's not clever to make fun of a group of people's collective tragedy. It's just not. Some people really need to think before they do certain stupid shit.

What do you guys think?