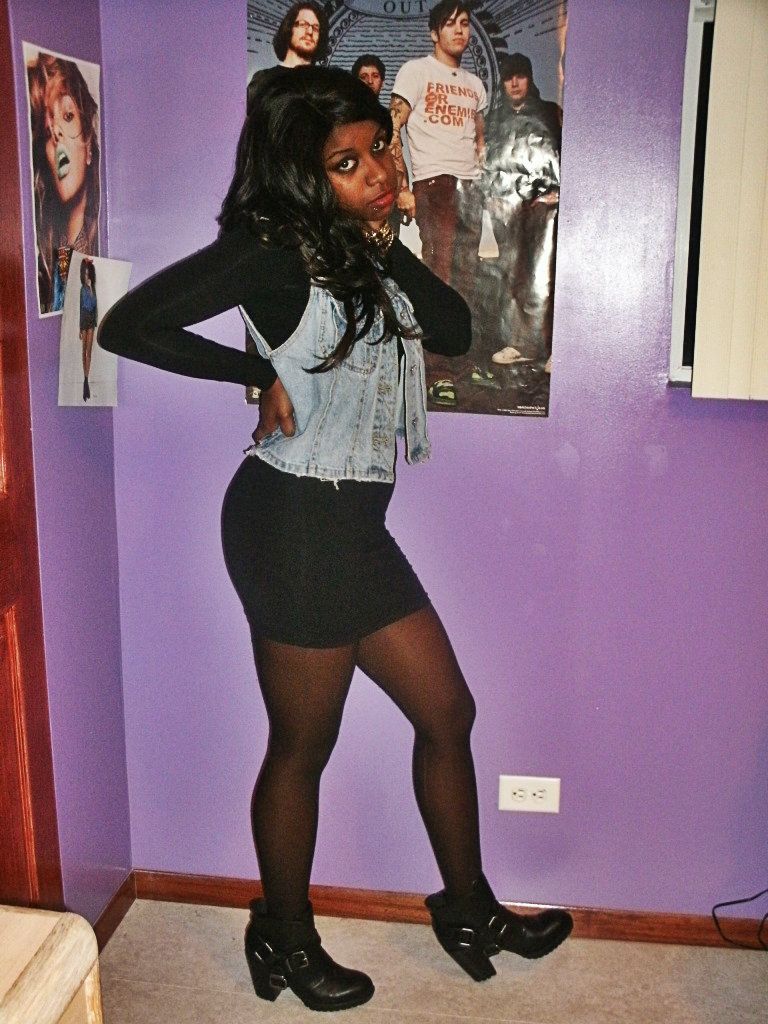 Dress: American Apparel. Vest: My mom's. Shoes: Urban Outfitters.
This is from a while ago as well--don't judge me, I'm just lazy. I was overcome by a wave of nostalgia after watching a slew of 90s videos on "Retro Centric," one of the few places where I can watch music videos. Here, on the Centric channel--available to those with Direct TV--they show videos that are probably older than 2004, I want to say. Artists such as A Tribe Called Quest, Monica, Brandy, Jodeci, and more all make appearances and make me remember my awesome childhood/adolescence. Okay, it wasn't that awesome, but the music was at least not as shitty as it is now.
This outfit was inspired by En Vogue in the "Hold On" video. The 90s just possessed an era of classy sexy. Girls didn't bump and grind, they actually moved their whole bodies instead of just their asses. They had such a low-key swagger. Like Aaliyah, you could wear baggy jeans but have on a tight, cropped, long-sleeve top and balance everything out. A long-sleeved bodycon dress went a long way. Take a look at what I mean.
*Sidenote: I feel like I need to start documenting the fuckery that goes on in my life a lot more. Namely, my romantic life, or lack thereof. Here's a few abbreviations to look out for when I start whining about my life.
SAB: Strange and Beautiful. (Me.)
GAS: Grown and Sexy (Workplace Crush)
GATHI: Guy Also Tryna Hit It
APTB: Annoying Powers That Be (Managers, life, etc.)
When I come up with more, I'll add them. TTFN! (Ta ta for now.)