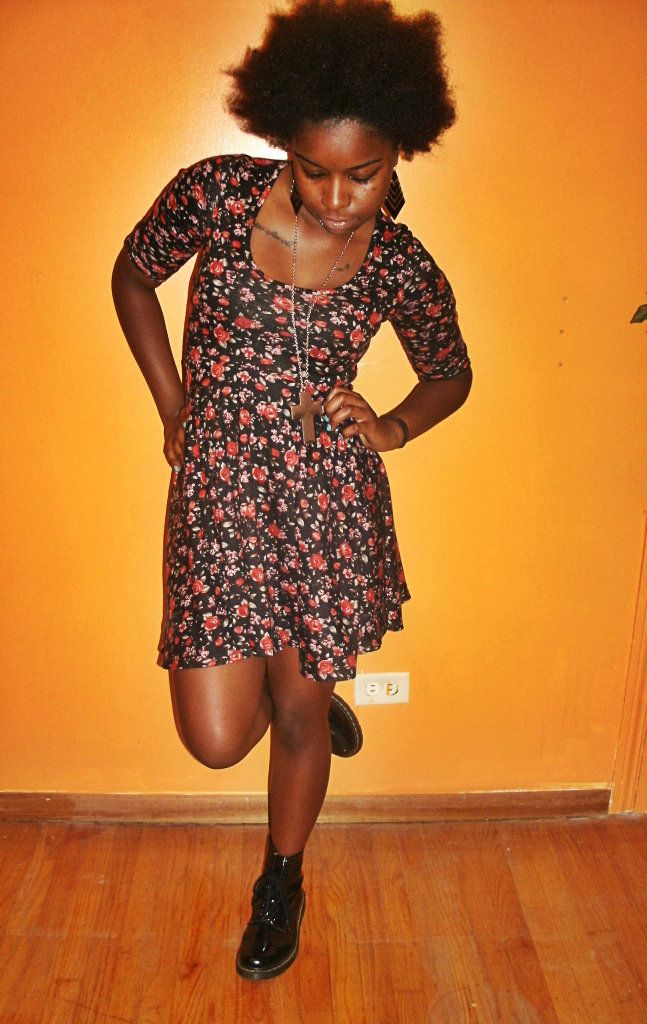 Dress: Buffalo Exchange/Thrift.
Necklace: Forever 21.
Boots: Dr. Martens.
Lately, I have been on a complete nostalgia trip. I wanted to convey the whole grunge look on Friday. A flouncy, floral dress and Doc Martens are basically the essentials for 90s style.
My obsession with the 90s might just spring from a made up perception that the present sucks and the past is better. I mean, come on. Who wouldn't want to go back to the time when one could watch good original Disney Channel movies? When Rugrats, Hey Arnold!, All That, and Doug were always on television? When Aaliyah, Kurt Cobain, Left Eye, Selena, Tupac, and Biggie were still alive? When people cherished music more because it wasn't on the internet? When concert tickets weren't as high--oh MAN if I saw Red Hot Chili Peppers back then it would be so cheeeeap--and some of the best alternative music was openly appreciated to at least some mainstream extent? What happened to those glorious days, man?
But fear not. I am skilled at being a music dork and digging through my countless MP3s to find the cream of the crop. This in NO WAY encompasses the best of 90s, just what's the best to me. Knowing me, since nothing I listen to is current these days, I'll find more 90s bands to appreciate in no time. But here is a playlist of some good music from the decade that used to be.
The 90s Are All That! Mixtape
Bills, Bills, Bills//Destiny's Child
Give it Away//Red Hot Chili Peppers
Intergalactic//Beastie Boys
Into the Void//Nine Inch Nails
John the Fisherman//Primus
Killin' Me Softly//The Fugees
Loomer//My Bloody Valentine
My Lovin' (Never Gonna Get It)//En Vogue
In the Aeroplane Over the Sea//Neutral Milk Hotel
Right Here (Human Nature Mix)//SWV
Undone (The Sweater Song)//Weezer