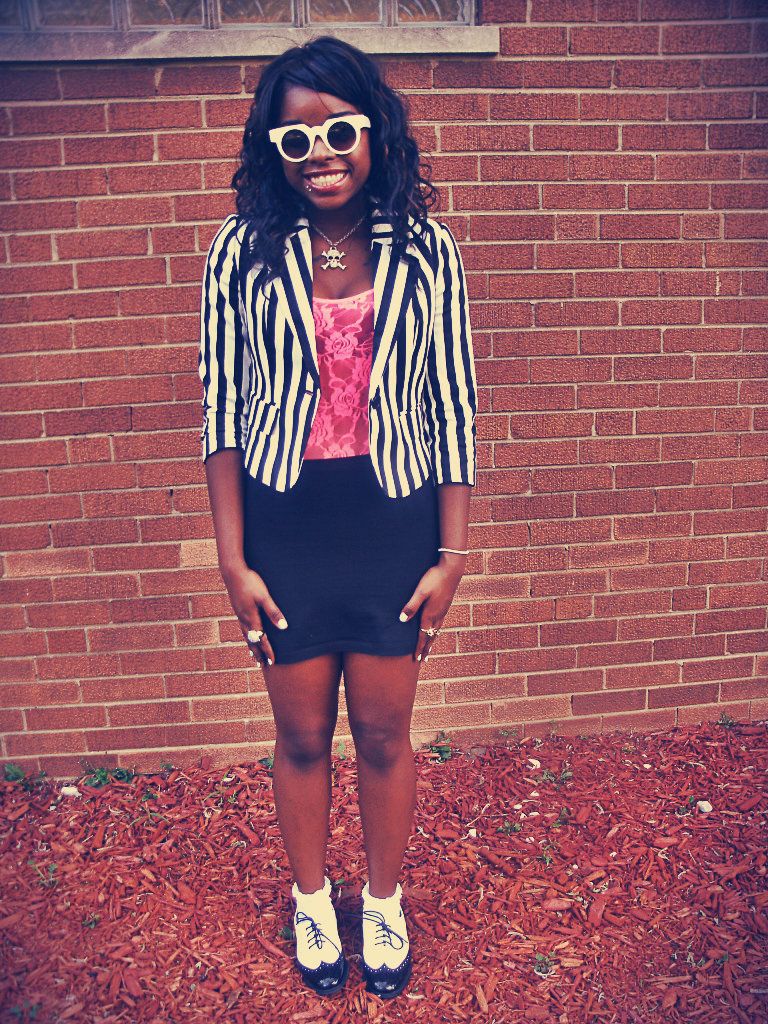 Jacket: Forever 21. Bodysuit: ASOS. Skirt: H&M. Sunnies: ASOS. Shoes: Wanted. Socks: Topshop.
So, the descriptions of my look the other day were pretty interesting. From "Sexy Beetlejuice" to "A Whore Who Works at Footlocker," per my idiot brother. This look was in my head for a while, so I was happy that it finally leapt from the brain to the body. The shoes are new, and I've been wanting brogues like these for a long time. They're not even that hard to break in. I have weird feet, so all my shoes hurt, but these were fine as soon as I put socks on.
Wearing outfits like this to my job, which is at a boring ass office, is the only perk. I want to quit so badly because I'm making no money, it's boring as hell, and I'm constantly falling asleep/taking naps. It's summer, nobody really comes in, and to add insult to injury, we can't even use our laptops to pass the time away. This fat, sloppy looking, pretentious hipster homobag--I don't hate the gays, I just hate him--told me and my friend to stop watching television on my laptop. Yet this assfuck was just trilling about, talking about how he's about to watch My Little Pony on YouTube. Seriously? You sit your ass in the back and watch television, but we can't The O.C. during the last hour of the day when there is absolutely nothing to do? Go fuck yourself with a cucumber, you shithead.
Anyways,
all ranting aside...
Okay, I know I have most likely hammered the 90s into my readers' head enough, but I honestly cannot get enough of NIN. I just bought this CD a few days ago, after threatening to own it forever, for the low-low price of $5. To me, this is their best album. Their magnum opus. Not because they gained a shit ton of recognition from that creepy ass "Closer" video--which I strangely found Trent Reznor amazingly sexy in--but because this is what NIN is. This is the sound of them, to a tee. Reznor recorded this album in the house where Sharon Tate was murdered by the Manson family. Let that sink in. No wonder this album is fucking creepy as hell. The album opens with a guy getting tortured. Trent's singing about pigs. There's a guy having an orgasm on one track, but its distorted so it sounds like he's dying. And let's not forget the big depress-fest known as "Hurt," the last song on the album, that Johnny Cash later covered. But why is it so astoundingly good? Because you get a glimpse into the fucked-up ness of a person. Their descent, their detachment from reality. This is the soundtrack to losing your goddamn mind, and it is done so brilliantly. You get raucous energy in some tracks, total anger, and in some songs, like "A Warm Place," you get peace and tranquility, which is basically all anyone wants, right?